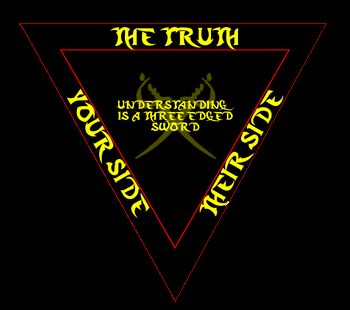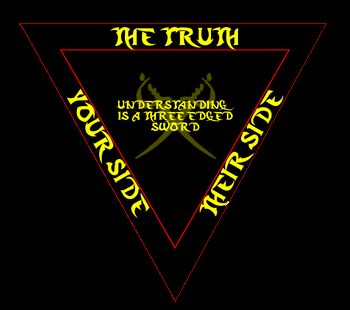 Understanding is a three edged sword,
your side, their side, and
THE TRUTH
13 words that can be used to lead you on the path to understanding.
---
Privacy Policy
The privacy policy of the Three Edged Sword is simple. With two ( 2 ) exceptions, I do not share any information with anyone, period. I don't sell, rent, give, or in any other way transmit any personal information I collect in the course of presenting this web site to you for your use, to anyone. And to be honest, with the exception of the forum, I do not actively collect any information anyways. With the exception of the forum and my web host, this website does not even deal with cookies at this time.
THE EXCEPTIONS
1. The only way any personal information will be shared with anyone is with the express consent of the individual that provides said information unless exception 2.
2. Concerning law enforement: If the authors of THE THREE EDGED SWORD deem that users of this website have committed criminal infractions in the use of this website, certain information may be shared with law enforcement officials.
THE THREE EDGED SWORD may revise the privacy policy for its web site at any time without notice. By using this web site you are agreeing to be bound by the current version of the Privacy Policy.